Our Youth Program reaches middle and high school students with the love and gospel of Jesus Christ. Through weekly Bible studies and various youth gatherings, we strive to instruct, encourage, and equip them in the Word as they face a world that is pulling them away from Godly morals and beliefs. Frequent youth activities and yearly camps and retreats help to build unity within our youth to strengthen their faith and walk with the Lord.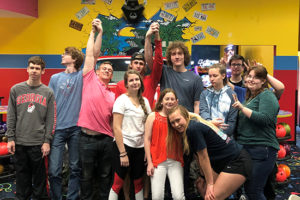 Life Group Bible Study
We focus on sharing the Bible, digging deep, answering the hard questions. Join our group!

Youth Ministry
A time for studying God's Word together and sharing friendships.

Praise Band
Do you want to learn to share your talent, sharpen your musical ability, and worship the Lord in the process? Praise Band is for you then. We lead worship Wednesday evenings for Youth and Adult Bible Study.

Family Dinner
Wednesdays are easier when dinner is prepared! Join us for family dinners at 5:30 p.m. for $5/person or a maximum of $20/family. Reservations preferred! Call 912.634.2833.

M-Fuge Camp
(For youth finishing 6th grade – 12th of that year)
A week that will change your teen forever! Fun filled activities, service projects in the community, amazing worship and daily devotions all impact your teen for God!
"Let no one despise your youth, but be an example to the believers in word, in conduct, in love, in spirit, in faith, in purity."
1Timothy 4:12.