O U R P U R P O S E & M I S S I O N
Our purpose is to worship and glorify the one true God. Our mission is to lead people to a life-changing encounter with Jesus Christ so they may become like him.
"That they might be called oaks of righteousness, the planting of the Lord that He might be glorified."
Reopening Update
Frederica Baptist Church will reopen in three phases. Currently, we have entered into Phase 1. Phases 2 and 3 will take us toward a full reopening. Our primary concern is to keep our church family and visitors safe and healthy. Thank you for your willingness to join our efforts to reopen our church safely.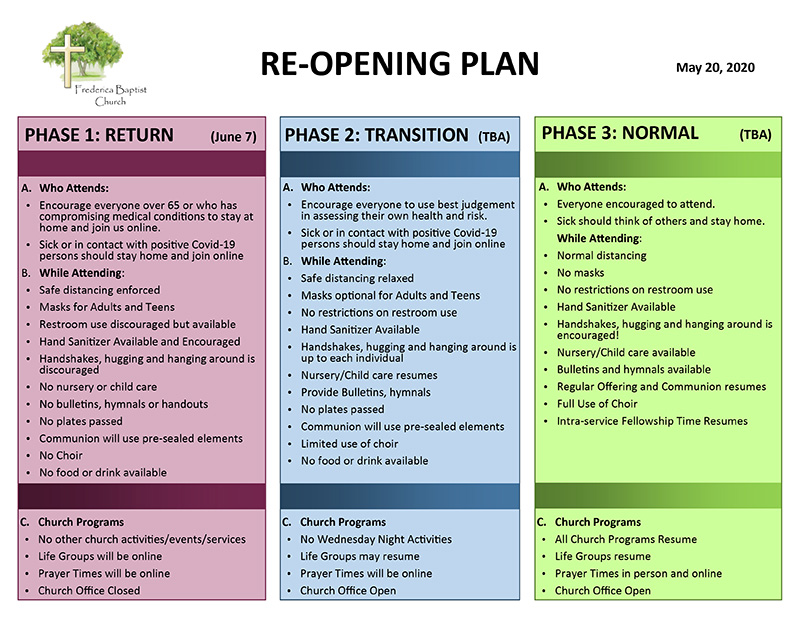 Come Visit

Our Team
S U N D A Y
Join us for limited Sunday Worship Services in person or online. Please come prepared to wear a face mask. We have extras if you need one. Thank you.
Scroll down for Youtube recorded services.
W E D N E S D A Y
All Wednesday Activities are temporarily suspended. Please check back for future updates.
5:30 p.m.

⎮

Family Fellowship Dinner

⎮

during the school year
6:00 p.m.

⎮

Inside-Out (Pre-K – 5th)

⎮

during the school year
6:15 p.m.

⎮

Youth Group (Middle-High School)

⎮

during the school year
6:15 p.m.

⎮

Adult Prayer Meeting and Bible Study
July 5, 2020⎮Pastor Mike Bowles
June 28, 2020⎮Pastor Mike Bowles
June 21, 2020⎮Pastor Mike Bowles
June 14, 2020⎮Pastor Mike Bowles
Address
⎮
1700 Frederica Road, Suite 302, St. Simons Island, GA 31522
Email
⎮
office@fredericabaptist.com